2017 Winners

Andrew Dong (1st prize)
Naoise McCarthy (2nd prize)
Rebecca Qiu (Honourable Mention)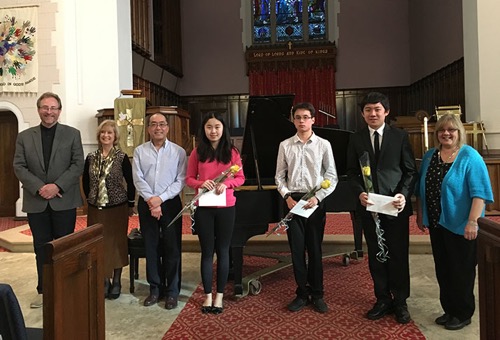 2015 Winners

Dan Luong (1st prize)
Sheila Wang (2nd prize - tie)
Gino Yeh (2nd prize - tie)

2016 Winners

Victor Nguyen (1st prize)
Bingeing Huang (2nd prize)


2015 Winners

Dan Luong (1st prize)
Sheila Wang (2nd prize - tie)
Gino Yeh (2nd prize - tie)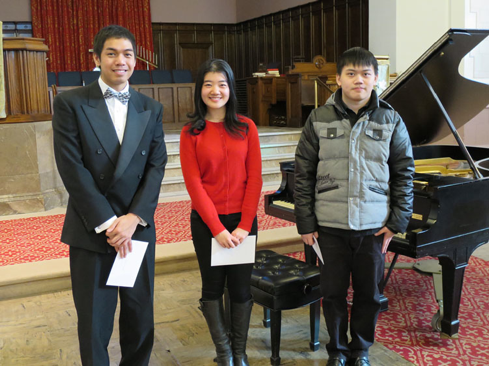 2014 Winners


Paul Naphtali (1st prize)
Darren Creech (2nd prize)

2013 Winners


James Naphtali (1st prize)

Performing: J.S. Bach, Prelude and Fugue in B minor, BWV 867
Prokofiev, Toccata, op. 11
Paul Naphtali (2nd prize)
Performing: Rachmaninov, Prelude in D major, op. 25, no. 4
Chopin, Scherzo no. 2 in B flat minor, op. 31

2012 Winners

Maggie Morrison (1st prize)
BEETHOVEN: Sonata in E Major, op. 109, no. 30: Gesangvoll, mit innigster Empfindung
DAVID L. McINTYRE: Transmissions: for Maggie (2011)

Praised for 'drawing every nuance and color from the piano and from the music' and applauded for being 'a young artist who is carving out a brilliant career path with apparent modesty and humility' (Charters, The Expositor, 2011), Canadian pianist Maggie Morrison is on the rise. She made her orchestral debut at age 9, performing with the Brantford Symphony Orchestra at the Sanderson Centre for the Performing Arts. She also performed withe the North York Orchestra in Toronto in November of 2006, giving a brilliant rendition of Gershwin's Rhapsody in Blue. Ms. Morrison is a multi-time top prize winner at the Canadian Music Competition, which she was most recently ranked second in her age division. In November of 2011, Maggie was awarded Top Performer at the Burlington Rotary Music Festival, where she received a substantial scholarship and performed for a large audience at the Burlington Performing Arts Centre. She was also awarded a scholarship for Top Performer at the Mississauga division of the Contemporary Arts Showcase, an Alliance for Canadian New Music Projects. In demand as a performer, Maggie has given numerous recitals and performances across Canada, the United States, and in several European countries. Some places of interest include: The Stucky Centre, in Parry Sound; The Royal Conservatory of Music, in Toronto; The Rockland Conservatory, in New York; and in Mixon Hall at the Cleveland Institute of Music. She has also been featured at various music festivals including Cecile Ousset's Showcase Concerts in Puycelsi, France; Rising Star Concerts at the Amalfi Coast Music Festival in Vietri sul Mare, Italy; and as part of the Chamber Music Series in Pinkas Zuckerman's National Arts Centre Program in Ottawa, Canada. Maggie regularly performs with her violinist sister, Emma, with whom she has created 'Sorella Duo'. She has also attended master classes at The Banff Centre on scholarship, and at the Toronto Summer Music and Arts Festival on full scholarship. Maggie has performed for such distinguished pianists as Marc Durand, Anton Kuerti, Andre Laplante, Nelita True, Julian Martin, Sergei Babayan, Emile Naoumoff, and John Perry. Ms. Morrison attended the Young Artists Performance Academy, a division of the Glenn Gould School for gifted young musicians, where she completed an Associate Piano Performance Diploma for the Royal Conservatory of Music, Toronto. She is currently a scholarship student at the Cleveland Institute of Music, where she studies with Antonio Pompa-Baldi and Paul Schenly.
Kaitlin Wagner (2nd prize)
BEETHOVEN: Sonata, op. 28, allegro
SCHUBERT: Impromptu in A flat, op. 90, no. 4

Kaitlin began her piano studies at four years of age in Gail Lange's piano studio in Guelph. Under Mrs. Lange's guidance, Kaitlin has successfully completed many musical goals, such as attending the Southwestern Suzuki Institute (SOSI) annually since 2000, to completing her Royal Conservatory of Music Grade 10 piano examination with first class honours. During the past eleven years, Kaitlin was a chorister for six years with Guelph Youth Singers directed by Linda Beaupre, learned to play the harp to Grade 8 level with Sharlene Wallace, and excelled at music theory with Valerie Candelaria. Kaitlin enjoys performing with her fellow piano students in recitals and in concerts such as the Three Piano, Six Hands performance last year at the River Run Centre in Guelph. Kaitlin also performs in the local Kiwanis Music Festival annually. In 2009, Kaitlin received the Kiwanis' Alice Sloan Memorial Prize scholarship for classical music. That same year, Kaitlin won third place in the Kiwanis Provincial Music Festival. For the past two summers, Kaitlin was accepted into the Young Artist's Program at SOSI held at Wilfred Laurier University in Waterloo, studying under Dr. Marnie Van Weelden. When Kaitlin isn't singing or playing a musical instrument, she is busy attending her secondary school classes through the Community Environmental Leadership Program (CELP) or looking after her horses.
2011 Winner

Andrea Van Pelt
Performed Heather Schmidt: Night Rainbow, and Brahms: Op. 118, no. 1 and 2

Andrea Van Pelt, who was a second year piano performance student at the University of Toronto, began studying piano at age 5 in Stratford, Ontario. She has studied with six piano teachers across the province. Previously under the inspiration of Olga Tcherniak, Andrea is currently working with Andrew Markow. She began studying violin at age 8 with Peter Bartley of London and completed her grade 8 violin with Lance Elbeck in Hamilton. Andrea's participation in music festivals and competitions in Sarnia, Hamilton, Brantford, Kitchener-Waterloo, Milton, and Burlington has resulted in numerous scholarships, trophies, and awards. She recently won Overall Most Promising Performer at the Burlington Rotary Music Festival. Upon recommendation from the Burlington festival, Andrea will be competing at the Ontario Musical Festival Association Provincial Competition in May.
Both Brantford Kiwanis Music Festival and Kitchener-Waterloo Kiwanis Music Festival have previously nominated Andrea several times for provincials. Currently working with John Tuttle in two Toronto choirs at Trinity College and St. Thomas's Anglican Church, Andrea has participated in various choirs and orchestras for over ten years, including working under Doreen Rao with the University of Toronto MacMillan Singers, with performances at Roy Thomson Hall. Having completed RCM ACRT in piano performance with distinctive recognition before entering university, Andrea has had the pleasure of working with many well-renowned pianists and teachers, recently including Janina Fialkowska, Jamie Parker, Marietta Orlov, Henri-Paul Sicsic, Boris Lysenko, Christopher Foley, Gwen Beamish, Seta Tanyel, and Elaine Greenfield.
2010 Winners: TIE for FIRST PLACE

Nathan Lang
Performed LISZT: Hungarian Rhapsody No. 12 and GINASTERA: Danzas Argentinas
Nathan Lang is a 16 year old student at Nelson High School in Burlington, and has been taking piano lessons since age three. Nathan currently studies piano with Susan Mander in Oakville and has been doing so for four years. He is working towards doing his ARCT in the next year. He also will be doing his grade eight RCM oboe exam in June. Nathan took cello lessons for three years, and played in a school chamber ensemble and orchestra. He has received numerous medals at the Burlington Rotary Music Festival, and won a scholarship at the last one.
When not practicing piano, Nathan trains for competitive swimming with the Oakville Aquatic Club and has competed at provincial and junior national levels. In his spare time he enjoys reading a wide variety of books, and editing the Encyclopedia wiki.
Nathan wins $250, a performance opportunity in the Duet Club of Hamilton's 2010-2011 Concert Series, and a place in the Finals of the Cathedral Bluffs Symphony Orchestra Concerto Competition.
Jessi Li
Performed J.S. BACH: Prelude and Fugue in E flat, Well-Tempered Clavier, Bk. 2 and LISZT: Liebestraum No. 3

Jesse Li has been playing piano since he was six years old. He has participated in various competitions such as the Kiwanis Music Festival and the Burlington
Rotary Music Festival winning awards at them. Jesse was formerly taught by Tanya Gernburd and has recently switched teachers to Larissa Gulenco. Jesse is
currently in grade 10 RCM and plans to take the exam sometime this summer. He is 15 years old and lives in Ancaster.
Jessi wins $250 and a performance opportunity in the Duet Club of Hamilton's 2010-2011 Concert Series
2009 Winner: Dennis Wong
Dennis Wong, 15, holds his ARCT with distinction in Piano Performance and was the winner of the 1st Annual Michael Geryk Memorial Piano Competition.
Dennis played the 2nd movement of Rachmaninov's Piano Concerto No. 2 on the Duet Club's Steinway at Melrose United Church on Sunday, September 27, 2009 while his brother Andrew, 16, played the accompanying orchestral part on a second piano.
Dennis also performed Excursion No. 3 by Samuel Barber and La Campanella by Liszt.